Description
Everyday Free Shipping for Orders $45 and Over*
*Shipping excludes PO Boxes and international orders.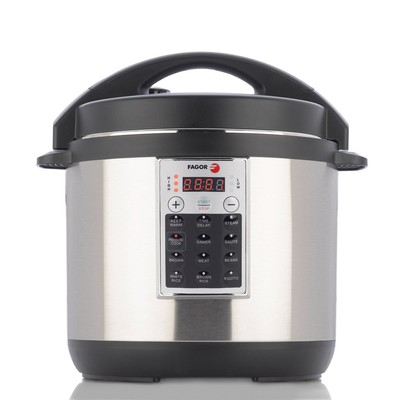 Fagor Premium 6 Qt. Electric Pressure Cooker
Product Description: The Premium Pressure Cooker gives you the flexibility to pressure cook (high and low) or rice cook meals all in one pot. The 5 built-in settings allow you to cook your beans, meats, white rice, brown rice and risotto to perfection. It also includes 4 cooking assist functions for Saute, Steam, Simmer and Brown for added convenience. The removable cooking pot is nonstick and dishwasher safe, making for a very easy clean up.
4 digit LED screen with soft touch controlsSelf locking lid will not open while there is pressure inside the potTime delay for up to 6 hoursIncludes: Pressure cooker, User's Manual Constructed of: Stainless Steel, Aluminum, Plastic
ETL Approved
Made in China
Brand: Fagor
Included items: Pressure cooker, User's Manual
Type: Pressure Cooker
Finish: Stainless Steel
Color options:
Style: Traditional
Settings:
Display: Digital
Wattage:
Capacity: 6 Qt.
Model: 670041930
Dimensions: 13×11.5×14
Reviews For This Product
Love it
out of 5 Stars
I brought this item for my daughter and she loves it.
Try These Other Categories