Description
Everyday Free Shipping for Orders $45 and Over*
*Shipping excludes PO Boxes and international orders.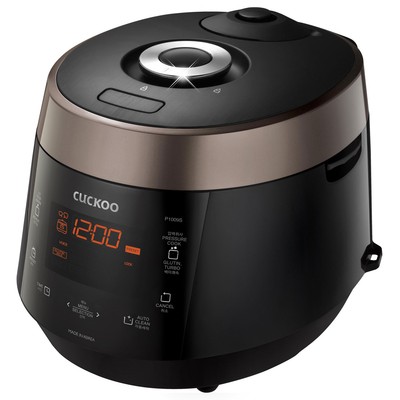 Cuckoo CRP-P1009S 10 Cups Electric Pressure Rice Cooker
Product Description: The P1009S is a 10 cup electric pressure rice cooker with Smart DSP using Cuckoo's patented algorithm system that makes sure that your rice is cooked thoroughly and tastes good! The P1009S comes with some of these features: 10 cup Xwall diamond coated rice pot, double layer cover packing, full stainless interior lid, full stainless pull out cover, 3 voice navigation settings, 12 cooking functions and automatic steam cleaning function.
Cord Length: More than 1 ft.
Product Features: Auto Shut Off, Non-Stick Surface, Ready Indicator Light
Display: Digital
Material: Aluminum, Plastic, Metal
Wattage: 1000-1500 Watts
Exact Color: White, Black
Color: Black, Pink, Off-White, Brown
Reviews For This Product
Quick and delicious
out of 5 Stars
We've made rice 5 times since purchasing this cooker. Being pressurized, it uses a less water than our old Zojirushi. A large batch of rice easily keeps moist and fluffy for days because there is a perfect seal on in the lid. The nonstick pan is easy to clean. I only soak it for 30 seconds before scrubbing with a soft sponge.
The only drawback is the vent. After removing the inner metallic top dish for cleaning, there is always gunk from rice in between it and the inner vents on the lid. It requires some scrubbing with a towel, but is not a deal breaker.
There were no plastic or rubber odors upon opening the unit, which shows that they took care to use to quality materials. It comes with a plastic steamer tray (wish it was metal) and a measuring cup for rice. Keep in mind that 10 cups is a about the size of two soccer balls, and you will likely need to clear room on your counter.
Having looked at the spec of the similar Zojirushi in the market, I can confidently say that this performs as well as the $500 Japanese models. If you have the cash to spare, this is a worthwhile investment for rice lovers and pressure cooking fans!
Awesome Rice Cooker
out of 5 Stars
It speaks and will be done perfectly with yummy steamed rice!
Try These Other Categories