Description
Everyday Free Shipping for Orders $45 and Over*
*Shipping excludes PO Boxes and international orders.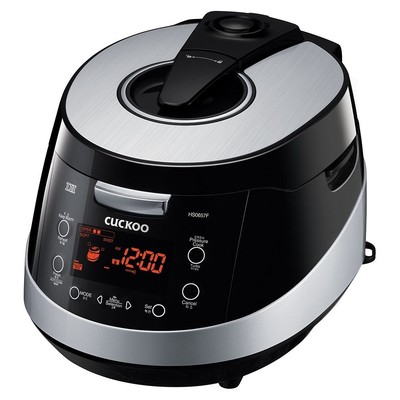 Cuckoo CRP-HS0657F Smart IH 6 Cups Electric Pressure Rice Cooker
Product Description: Since the introduction of Induction Heating technology, CUCKOO has continually invested in a new ways to improve the traditional method of cooking rice. With Smart DSP and a patented algorithm to make perfect rice. The HS0657F is one of CUCKOO's premium IH models. Some of the premium features that come with the HS0657F are: Xwall Diamond coated interior rice pot with titanium exterior coating, double layer cover packing, full stainless interior lid, full stainless detachable cover, and auto-steam cleaning function.
Cord Length: More than 1 ft.
Product Features: Auto Shut Off, Non-Stick Surface, Ready Indicator Light
Display: Digital
Material: Aluminum, Plastic, Metal
Wattage: 1000-1500 Watts
Color: Black, Silver
Reviews For This Product
Great!!!!
out of 5 Stars
There's many options. Just love it
Rice Cooker
out of 5 Stars
This is an induction pressure cooker. It is fast and very efficient. Cooks much more than rice and does a great job at all that we have cooked in it.
Try These Other Categories