Description
Everyday Free Shipping for Orders $45 and Over*
*Shipping excludes PO Boxes and international orders.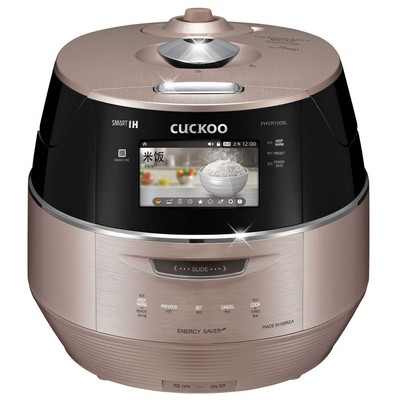 Cuckoo CRP-FHVR1008L Smart IH 10 Cups Electric Pressure Rice Cooker
Product Description: Introducing Cuckoo Electronics very first LCD display Induction Heating electric pressure rice cooker and the first Full Stainless Eco 3.0 model. The rice cooker comes with a touch navigation to slide through the menus easily. It comes with our newest vacuum heating function to help maintain the original flavor of the rice. CRP-FHVR1008L also comes in both Korean and Chinese voice navigation systems.
Cord Length: More than 1 ft.
Product Features: Auto Shut Off, Non-Stick Surface, Ready Indicator Light
Display: Digital
Material: Stainless Steel, Plastic, Metal
Wattage: 1000-1500 Watts
Color: Pink, Gold
Reviews For This Product
great rice cooker
out of 5 Stars
working fine and love the look. however, I can see little black dot that I can not get rid of inside of color screen. It bothers me and wish there was nothing in the display but I like the rice cooker over all. thank you.
Try These Other Categories