Description
Everyday Free Shipping for Orders $45 and Over*
*Shipping excludes PO Boxes and international orders.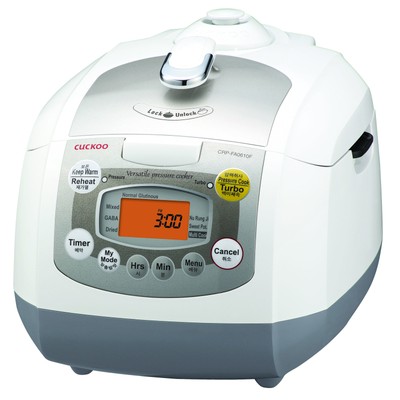 Cuckoo CRP-FA0610F 6 Cups Electric Pressure Cooker
Product Description: The FA0610F is a 6 cup electric pressure rice cooker from CUCKOO that comes with a signature CUCKOO exterior design. The FA0610F comes with the following features: Teflon coating (interior), voice navigation (Korean only), GABA Mode, and 13 safety features.
Cord Length: More than 1 ft.
Product Features: Auto Shut Off, Non-Stick Surface, Ready Indicator Light
Display: Digital
Material: Aluminum, Plastic, Metal
Wattage: 800-1000 Watts
Color: White, Silver
Try These Other Categories