Description
MIDEA MY-CS6004W 15-in-1 6L Stainless Steel Pot Electric Pressure Cooker with Steamer Rack
Order NOW to receive within 2-3
Business Days!!!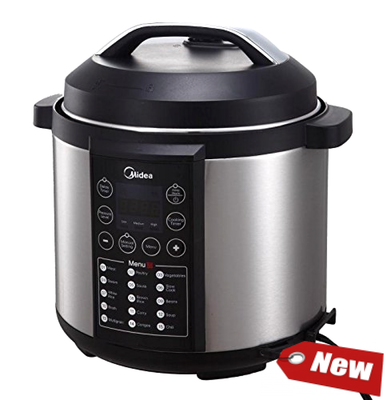 'This is how you operate the machine. It is very easy. Plug the power cord into wall outlet. Open the lid by turning it counter clockwise. Add materials to the removable stainless inner pot below the "max" mark. Close the lid by turning it clockwise. Select an automatic cooking program by 1) pressing "menu", and 2) pressing "+" or "-" to select program 1 (p01) to 15 (p15). Or create your own cooking program by 1) pressing "manual setting", 2) pressing "pressure level" to chose "low", "medium" or "high", and then 3) pressing "cooking timer" and then "+" or "-" to adjust cooking time. Here you can create endless combination of cooking programs with different cooking pressure and cooking time. Set up "delay time" by 1) pressing "delay timer" and 2) pressing "+" or "-" to adjust delay time. This is optional. The 24 hr. delay timer will make your meal planning very flexible. For instance, you can prepare the cooking at nigh before going to bed for the cooker to cook breakfast the next morning automatically. Wait a few seconds, the LCD will stop blinking, the machine will beep and then start cooking automatically. If you set up delayed cooking, the machine will first counter down the delay time, and then start cooking automatically. During cooking you will not hear any steam because the pressure is automatically control. The cooking is quiet, clean, efficient, and fully automatic. After cooking: The cooker will beep and then automatically enters "keep warm". Please note that this cooker has a stainless steel inner pot and lid. All surfaces in contact with food are stainless steel. This is a large capacity cooker since the inner pot is 6 liter (most cooker is 5 liter). This cooker is UL certificated and is made exclusively for green living/green electronics as indicated on the color box. Bonus free steamer rack .
15 cooking programs: Meat, poultry, vegetables, steam, sauté, slow cook, white rice, brown rice, beans, broth, curry, soup, multigrain
Fully automatic cooking with one-touch selection, added flexibility for manual selection of low, medium
24 hr. delay timer for convenient meal planning, automatic keep warm function let you eat hot food whenever you are ready
All surfaces in contact of food such as the lid and the inner pot are made of stainless steel
Ul certified with 10 proven safety mechanisms
Product Dimensions & Shipping Weight W:14.0 x L:14.0 x H:14.0 inches ; Weight: 14.0 pounds
Shipping Terms: Shipping is ONLY to the 48 Contiguous US States.. This excludes these locations: Alaska, Hawaii and Puerto Rico. APO/FPO's are definitely excluded. PO Boxes: Please include a physical street address. Many items cannot be shipped to a PO Box. Your order will be delayed if a physical address is not provided. Expedited shipping is available for most items. We will contact you within 24 hours if an item cannot be expedited.
Terms of Sale and Feedback: Please leave us a good rating after you have received the item and are happy with our transaction. If there are any issues, please contact me first before leaving a neutral, negative or 5 star rating. Customer Satisfaction is our top priority!! We promise we can make you happy if you give us a fair chance. Thanks and happy bidding!!
Returns: All items qualify for returns within 14 days of receipt. Please send a message through eBay if an item is damaged, broken, or incorrect so we can promptly track and resolve any issues.
Backordered or Out of Stock: On occasion an item purchased may be out of stock or on back order. When purchasing, buyer agrees to accept a full refund within 48 hours of purchasing or the option to wait for the item to come back in stock. Inventory on eBay changes constantly and it is impossible to maintain a perfectly accurate count of all items. Please do not penalize us if we have to refund you! Please feel free to message us with the question "Stock?"
function disabletext(e){
return false
}
function reEnable(){
return true
}
//if the browser is IE4+
document.onselectstart=new Function ("return false")
//if the browser is NS6
if (window.sidebar){
document.onmousedown=disabletext
document.onclick=reEnable
}
document.addEventListener("contextmenu", function(e){
e.preventDefault();
}, false);